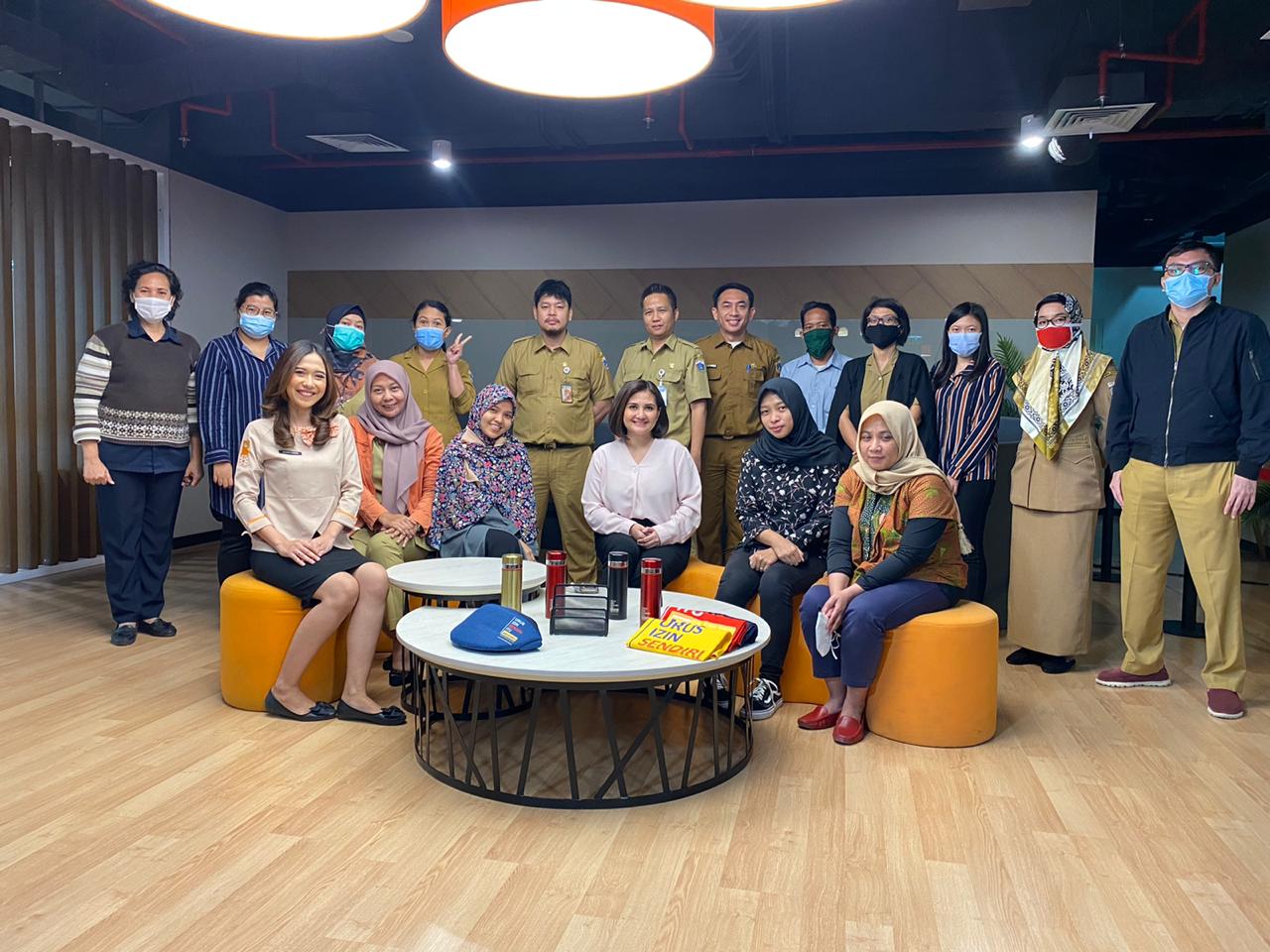 The Provincial Government through the Jakarta Investment Center (JIC) will assist investors who will invest in Jakarta, starting from the initial stage, applying for permits to the stage of realizing investment. On that basis, the Jakarta Investment Center (JIC) held its third webinar on November 24, 2020, with the theme "Health Management and Social and Economic Recovery", this webinar is expected to be a solution for investors who wish to invest in Jakarta during the pandemic and become solutions for the community in facing the Covid 19 Pandemic, especially the people in Jakarta. This webinar was led by Khanti Saras as the Master of Ceremony and Moderated by Lady Malino, who then presented 4 speakers, namely Mr. Anies Rasyid Baswedan, Ph.D. as the Governor of DKI Jakarta, then there was Prof. dr. Amin Soebandrio, Ph.D., Sp.MK as Head of the Eijkman Institute for Molecular Biology, then there is Mrs. Masyita Crystallin Ph, D as Special Staff of the Minister of Finance for Fiscal and Macroeconomic Policy Formulation, then the last one is Mrs. Shinta Kamdani as Deputy Chairperson for Relationships International Kadin Indonesia. In this webinar, Prof. Amin emphasized that "Hopefully, the first or early second quarter of the vaccine can be submitted to biopharma for immediate clinical trials, and inshallah in 2022 we can get a meter test of the vaccine." a glimmer of hope in facing Covid 19, followed by data from Mrs. Mashita which shows that "Economic Pressure in Developing Countries in Asia is relatively better among others, benefited by the recovering Chinese economy" which indicates that investment opportunities in developing countries, including Indonesia still possible and economic activity is expected to continue to improve. As a business actor, Mrs. Shinta affirms that "All business actors are experiencing demand shock, or demand continues to increase but the availability of goods or capital continues to run low. However, there must be an adaptation strategy and initiatives of business actors to stimulate the economy during the Covid 19 crisis, including optimizing digital platforms", indicating that business actors are required to be creative in marketing their goods to support the Indonesian economy, especially Jakarta during the Pandemic. Then the session of this resource person was closed with Mr. Anies statement that "the government must move quickly, even though it does not know when the peak of the pandemic will be but the set of the policy must be ready to be executed later."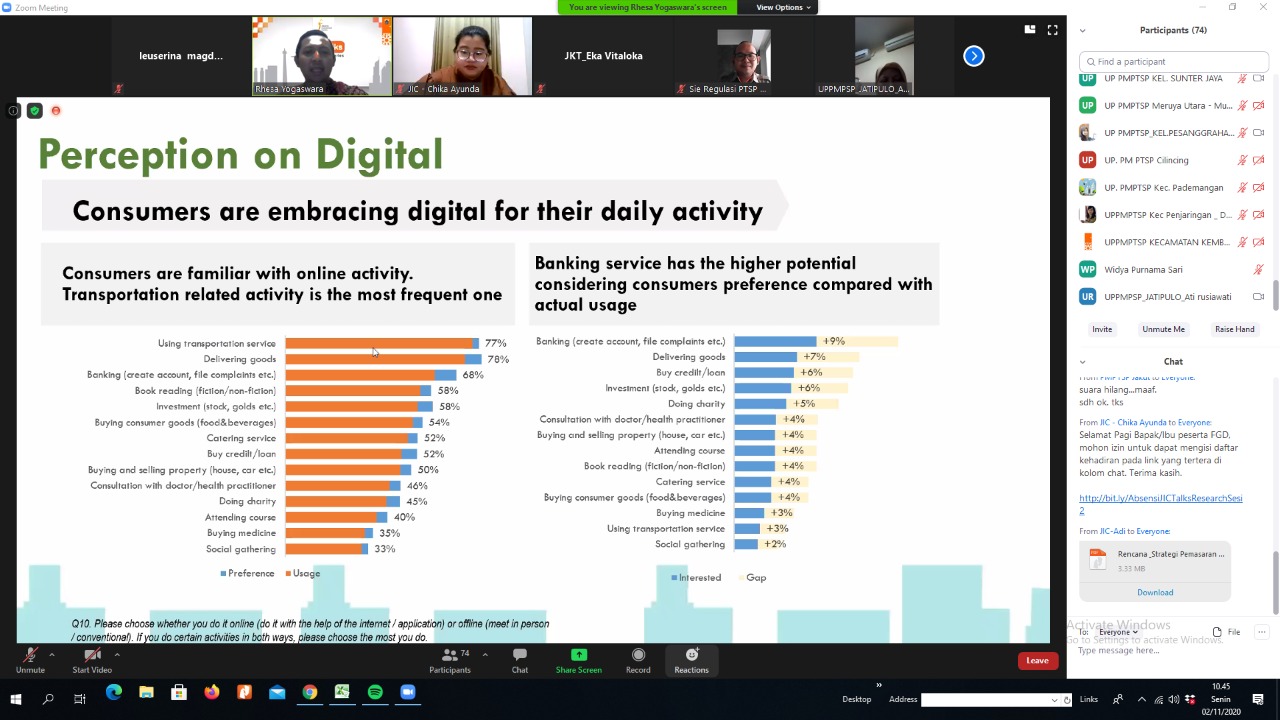 JIC Talks was held in 2 sessions on October 27, 2020, and November 2, 2020, by zoom meeting, discussed Investment Research Insight to explore ways of preparing effective investment promotion research by inviting speakers from academic and practitioner, namely Mrs. Ira Fachira, Ph.D., Head of Bachelor of Management Program & Assistant Professor in ITB School of Business & Management and Mr. Rhesa Yogaswara, Chairman of the Institute for Development of Potential Rulers (LP3-HIPMI JAYA). In the first session on October 27, 2020, Mrs. Ira Fachria talked about an introduction to marketing research and research design & data sampling processes. While Mr. Rhesa Yogaswara explained more details about the type of sampling method divided into 2 methods, namely, probability sampling and non-probability sampling. In the second session on November 2, 2020, Mr. Rhesa Yogaswara provided an explanation of marketing plans & strategies and the importance of digitalization trends, big data, and digital platforms for the consumer in a disruptive world. And Mrs. Ira Fachria mentioned 7 important steps of data processing and quantitative analysis, namely familiarization with the data, construction of an initial set of categories, refining and grouping together of categories, constant comparison, new data collection, theory construction, and description of the findings. This time the JIC Talks were attended by related SKPD, BUMN, BUMD, and private sector. Although the number of participants was less than the JIC Talks Series 1, the discussion time was very lively and full of energy because our speakers were not only experts in theory but also real-life practice.
JIC Talks was held on September 24, 2020, by a zoom meeting, discussed the importance of a cold chain management system for city food security. There is one of the support systems, namely the logistic railroad distribution system. The management of these two aspects must be able to create national food security that is strong against all problems and disasters. Management must be carried out optimally considering the two aspects are compatible. It is expected that the JIC Talks will open insights and knowledge related to a more innovative food security system to provide improvements to the existing food system. "As a city of consumption, DKI Jakarta has quite a lot of transportation facilities. Future transportation requires a well-platform digitalization system which makes it easy to monitor the delivery and the available stock fast and on time." said one of the interviewees of this event, Ir. Hasanuddin Yasni, MM, Chairman of the Indonesian Cooler Chain Association (ARPI). "The need for Cold Supply Chain for Food Security in DKI Province will continue to increase very significantly, especially during the current Covid-19 pandemic. Therefore, Indonesian Logistics Railway LLC (KALOG) is ready to support the DKI Food Security Cold Supply Chain program by providing inter-city rail transport and terminals/depots in the DKI area to serve as Logistics HUB." said VP Corporate Planning/Strategic KALOG Business Expert, Mr. Edi Sudiarto. This time the JIC Talks were attended by related SKPD, BUMD, and private sector. This event received a lot of positive responses from guests because even though the activity participants were limited to 100 invited people, many other people still wanted to participate in the event.